Wednesday, March 4, 2009, 22:18
Posted by Administrator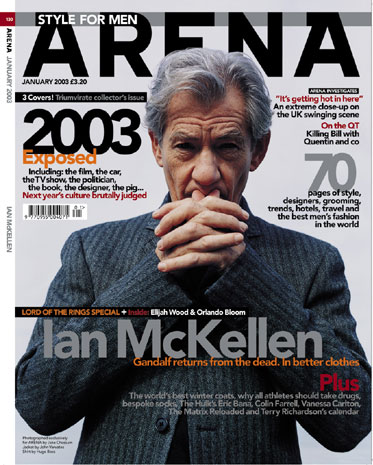 Arena magazine closed yesterday after 22 years. Homme Plus will continue, as will the international editions.
Wednesday, March 4, 2009, 22:02
Posted by Administrator
There is literally nothing on the planet more painful to watch than
a model falling over, mid-show
. There probably is actually, but I haven't seen it so it doesn't count, whatever it is.
Cashing in on this model misery is L'Officiel, whose latest issue features this editorial of models doing just that. I only just saw this shoot on
ONTD_FF
today, so apologies if it's totes old news, but I enjoyed it anyway. Funny, clever, all the above and more.
I missed out the shot where you can see the model's tramp stamp, because it totally fucks the whole thing up if you ask me.
Pics c/o
ONTD_FF
, of course.
My fanny pack is fanny packtastic, my fanny pack is cool, everybody tells me that my fanny pack rules
Monday, March 2, 2009, 22:16
Posted by Administrator
Things that will never stop being funny;
this picture of Sarah Jessica Parker and Valentino
,
the Family Guy song about AIDS
,
the Yo Dawg meme
and the fact that Americans use 'fanny' for 'ass' while us Brits tend to use 'fanny' for 'vagina'. I mean really, that never gets tired.
All of which (or, actually, none of which), leads me to this shirt from
Brooklyn Industries
. The design is called 'Fanny Pals', which I think is where I was going with all that.
Sunday, March 1, 2009, 22:39
Posted by Administrator
Do you know what Autumn/Winter '09 has not had enough of? WADERS. I know, right? God, the other designers must be feeling like total tits now. How embarassing! Christ you guys, keep up.
Miuccia must be laughing all the way to the bank.
SRSMENT though, I love it. Practical, too. Oh, and did you know there was
wader porn
? OF COURSE THERE IS.
Sunday, March 1, 2009, 22:23
Posted by Administrator
I didn't realise that Kim Gordon's Mirror/Dash label was so affordable and tasteful. Well done Kim, not only are you supremely talented, hot and probably the coolest woman alive, but you are also a capabale designer. HIGH FIVE!
Available ~exclusively~ at
Urban Outfitters
.
<<First
<Back
| 59 | 60 | 61 | 62 | 63 | 64 | 65 | 66 | 67 | 68 |
Next>
Last>>